THIS NOVEMBER GET READY TO BE SUPERCHARGED
Don't Let The Party Stop..
#MaxGameMaxROI
This November, get ready to break all the realms of Poker action. Participate in Pocket52 Supercharged November and be ready to get your jaws dropped! While your heart is denying to get over last month's festive spirit, Pocket52 has raised the fun to multifolds. To tickle your inner poker champion, we bring to you unlimited poker action and massive winnings on the table.
While this might appear like a dream to you, pinch yourself right away as Pocket52 has raised the GTDs to multifolds while the buy-ins remain similar. Surprised?? Wait till you know how we have raised the GTDs for all our featured tournaments to give you more value on your buy-ins! Join this ultimate Poker party and grab your bite from the whopping 3.6Cr GTD cake!!

Pocket52 Supercharged November brings to you a grueling poker action from November 1st to November 30th. Here, every gameplay will help you win a share from the grand 3.6 Cr Guaranteed Reward [and of course the bragging rights ;) ]. Get ready for the grand spectacle and witness something groundbreaking !!
Series highlights:
Enjoy bigger GTDs and lower buy-ins
Up to 50% higher ROIs on Pocket Kings with 15L GTD and 3300 Buy-In
Up to 35% higher ROIs on Pocket Jacks with 3.5L GTD and 1500 Buy-In
Up to 34% higher ROIs on Pocket Queens with 5L GTD and 1650 Buy-In
Up to 33% higher ROIs on Pocket Knights with 2L GTD and 1250 Buy-In
Up to 20% higher ROIs on Pocket Tanks with 1.5L GTD and 1100 Buy-In
100% Bonus on First Deposit upto ₹15,000
Enjoy 30% extra bonus from 2nd deposit onwards
3 FREE Tickets to Welcome ₹1K Daily FREEROLL
Win from 2 Lacs BFF Leaderboards rewards
Freerolls worth 5 Lacs
So what are you waiting for? Get your adrenaline juices flowing and join the biggest poker party!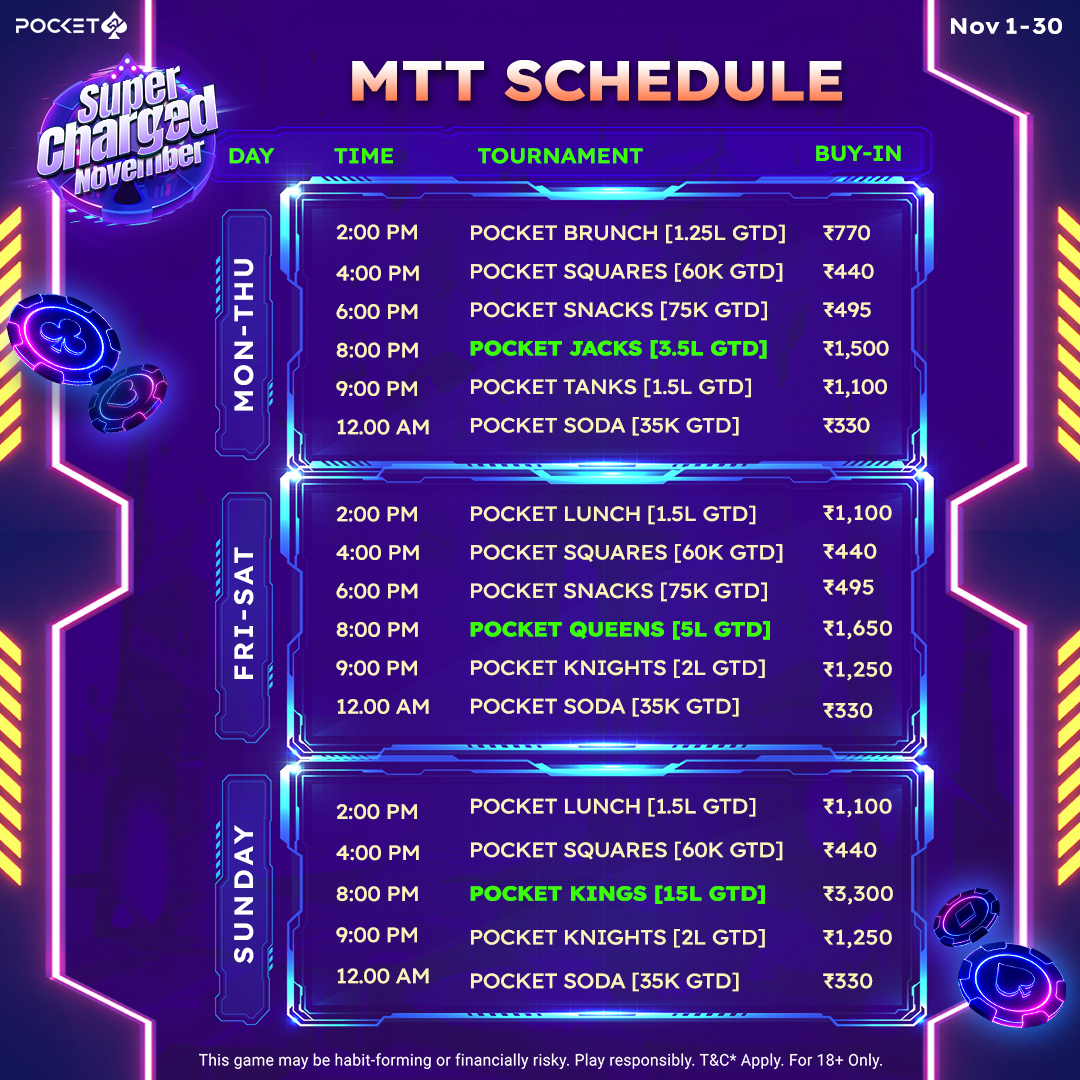 We are super social, Join us on Facebook, Twitter, Instagram, and Telegram to win exclusive tournament tickets and amazing giveaways. See you there!
Don't have a Pocket52 account?